New Auckland harbour crossing: Tunnel and tolls would support …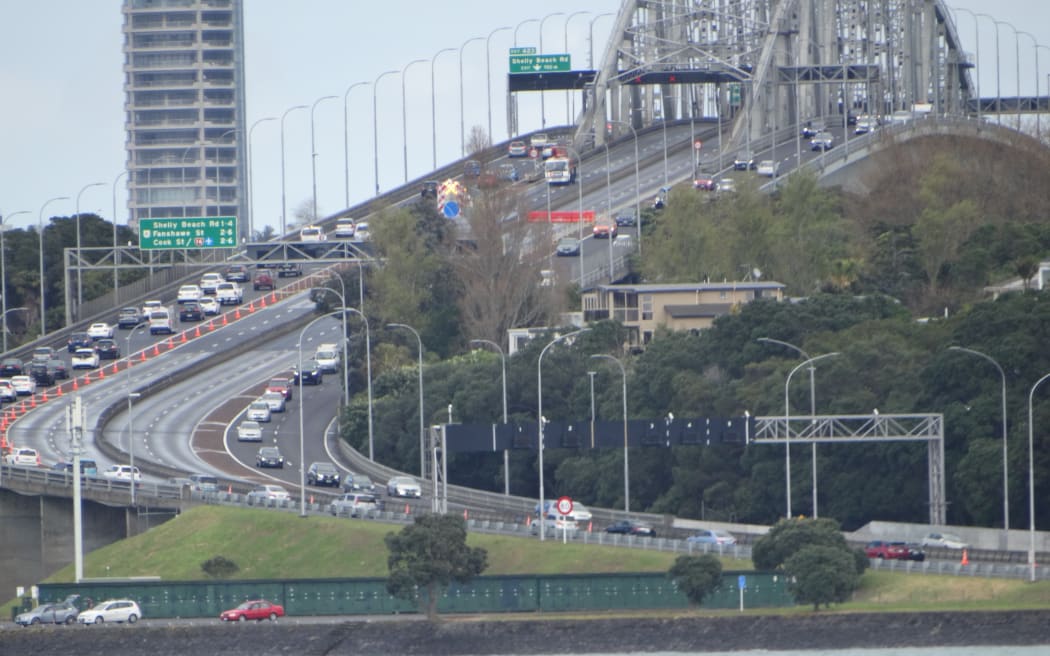 Trucking companies believe a tunnel is the best option for a second Auckland harbour crossing.
The government has revealed five options for another link to the North Shore[1] and is promising construction will begin before the end of the decade.
The National Road Carriers Association said a tunnel would provide the most resilience and that its members would probably be willing to pay tolls to support the infrastructure developments.
Its chief executive, Justin Tighe-Umbers told Morning Report a second crossing was urgently needed.
"When you've got clogged roading networks, we just lose millions of dollars of productivity as an economy, and that's what we need to be focusing on – how we solve that," he said.
"Our members are telling us every day – even when the bridge is fully operating – already they're losing hundreds of hours across their business, trying to get across the city.
"And then when the wind blows, and you lose a couple of lanes – or indeed the whole bridge – they're having to divert 50 kilometres or more, right out west."
Paying for the necessary transition to public transport and future fuel technologies was dependent on an efficient economy, he added, and an efficient roading network would be required to underpin that.
He said it was important there was a long-term plan that could withstand the three-yearly election cycle, so that contractors and builders would feel confident investing in the workforce that would be required to complete a second crossing.
"This has to be agreed across parties … this is a generational investment for New Zealand."
Tighe-Umbers said it was pleasing to see that all the options on the table involved extending light rail connections across to the North Shore.
"I think it's striking the right balance in terms of putting in place that backbone of mass rapid transport – or at least mass transport – that Auckland needs and getting that operating up on the [North] Shore."
"This is something that I think everyone's been calling for for decades."
The issue of a second harbour crossing affected more than just Aucklanders, he added.
"This investment will be critical for actually unlocking freight and transport in the whole North Island."
It was important the network was built for resilience so that if one crossing was unable to be used for any reason, the other could still operate, he said.
"I think a tunnel offers the best option for that in terms of separation."
He said road tolls could be part of the solution to meeting the huge cost of a second harbour crossing.
"I think tolls is an option that's been on the cards for a long time and I think we really should have picked up across the board a lot earlier – perhaps even when the harbour bridge was paid for."
He believed National Road Carriers Association members would be willing to pay them: "as long as they got the outcome, which is well-maintained roads – and also the ability to complete their journeys in reasonable time".
'A project from last century'
However the Greens say rapid transit must be the priority for a second harbour crossing – not more congestion-creating car lanes which are worsening climate change.
The party's transport spokesperson, Julie Anne Genter, told Morning Report the focus needed to be on investing in public transport.
"If we don't waste a huge amount of money on additional car lanes, then we can continue investing in better public transport right across the city, which makes it more viable for more people to leave their cars at home."
She described the proposals to develop additional road connections across the harbour as "a project from last century", and said the country did not have the time or money to "keep pursuing these extravagant projects that we know will make traffic worse and won't get us towards our climate goals".
"We already have a bridge with car lanes, but what we don't have is a way to get across on foot, or by bike, or by e-bike; and what we don't have is a rapid transit line that will be able to cater for the number of people that will need to use it in 10 years."
Genter said the Greens would like to see how much could be saved if the option for additional car lanes was dropped from one of the five scenarios proposed.
"There's an option for a bridge with light rail, walking and cycling – if you ditched the three car lanes, we'd love to see how much money that saves and how that could be put towards making public transport work in other parts of the city."
She said spending billions of dollars on an additional road crossing would not alleviate congestion problems in central Auckland.
"The report has said that there's no capacity for additional cars either side of the bridge so if you put more lanes going across the harbour, you don't solve the problem in the city centre, you just create more congestion in the city centre."
Introducing congestion pricing for Auckland – something all parties had agreed to look at – would likely be a better way to address the city's congestion problems, she said, however that was contingent on there being adequate public transport options available.
"People would need an alternative to switch to and that's why we need the priority for investment right now to be … really high quality, reliable, frequent public transport".
Auckland's public transport infrastructure was "way behind" when compared with similar-sized cities, she added.
"We need to be making a rapid transition to a low-carbon transport system that will also mean a more liveable city."
ACT questions timing of second harbour crossing announcement
Deputy leader of the Act Party, Brooke van Velden, told First Up the party acknowledged the need for a second Auckland harbour crossing, but questioned the timing of the government's announcement.
"Everybody knows that we need more resilience in our infrastructure network in Auckland, this harbour crossing had been talked about for decades and we know that work on it will be needed to happen in the next coming decades, but it seems extremely politically opportunistic for this information to be dropped this week," she said.
"It seems like a massive distraction from the issues within the government."
"I'm looking to see how the consultation period goes with members of the public, to see what options other people around Auckland want."
Van Velden noted that, upon becoming prime minister, Chris Hipkins had released a Cabinet paper about the issues of importance for his government, which stated that it was not the time to embark on significant new infrastructure projects.
"So what has happened within the last few weeks that now makes it so important that we progress with another harbour crossing?"
She acknowledged a second crossing would be needed to future-proof access across the Waitematā, "but how it's funded and the costs and benefits of different methods will have to be worked through".
References
^ revealed five options for another link to the North Shore (nzta.mysocialpinpoint.com)