PHDCCI conducts discussion on MMLPs with Shukla, Singhal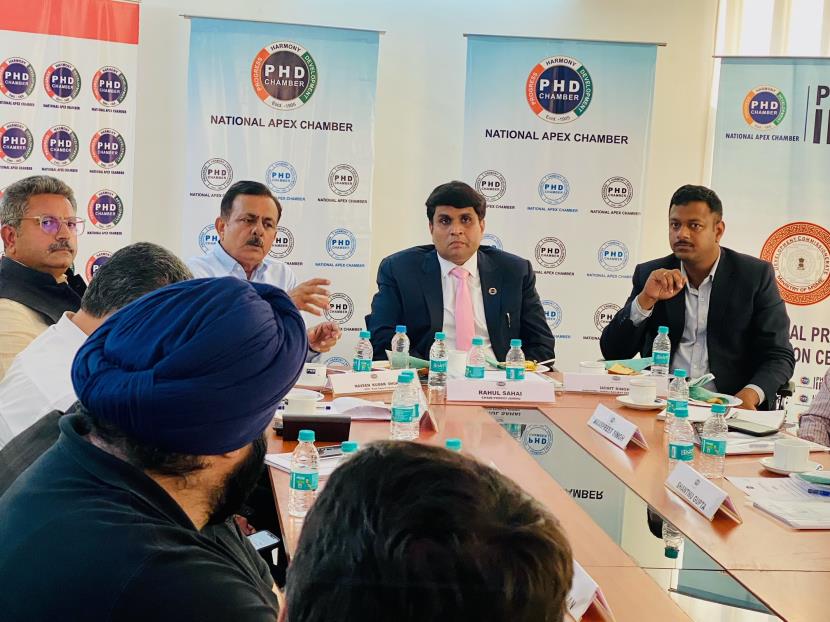 Mar 31, 2023
JAMMU: PHD Chamber of Commerce and Industry Jammu conducted interactive meeting with Naveen Kumar Shukla, Expert Logistics and Uchit Singhal, Station Director, Northern Railway, Jammu regarding Multi Modal Logistic Park coming up in Samba.
Rahul Sahai, Chair PHDCCI Jammu in his opening remarks said that Multi-Modal Logistics Parks (MMLPs) is a key policy initiative of the Government of India, led by National Highways Logistics Management Limited under Ministry of Road Transport and Highways (MoRTH) and the National Highways Authority of India (NHAI), to develop Multi-Modal Logistics Parks in hub-and-spoke model to improve the country's freight logistics sector by lowering overall freight costs and time, cutting warehousing costs, reducing vehicular pollution and congestion, improving the tracking and traceability of consignments through infrastructural, procedural and information technology interventions.
Naveen Shukla (IRTS Rtd), Expert Logistics informed the members, that about 30 -35 logistics parks are identified in the country and one in Jammu region. He said that in Samba the land parcel has been identified which will be connected with expressway rail track and Delhi-Katra expressway also. He said that Multi Modal Logistics parks will be one stop solution to take care of all logistics.
Shukla shared that the MMPL will work on PPP model and will be of great benefit for the industry and traders.
Members present in the meeting noted that the freight of trains will be cheaper than the road and will benefit the industry. They raised the issue of not having any ICD in J&K.
Uchit Singhal, Station Director, Northern Railways briefed the participants about the benefits of Joint Parcel Services. He said that the joint parcel product aims to target the business-to-business and business-to-customer markets by offering a full parcel handling solution, which includes picking up from the sender's premises, booking and doorstep delivery to the recipient.
The meeting ended with the vote of thanks by Samar Dev Singh Charak, Co-Chair PHDCCI Jammu Chapter.
Meeting was also attended by Industry members- Ashish Jain from Pharma sector, Jaspal Singh from Samba Industries, Raj Dua industrialist, Shantnu Gupta, Vinay Sharma from Berger Paints (Samba), Amarjeet Singh from Attar Singh & Sons, Ankush Jain from Solar Sector and others.