"He Was Referring to Me" – Former KBM Driver Fuels the "Respect …
Ever since Kyle Busch[1] flared up his infamous "respect" rant, the subject has become the talk across every garage. Multiple drivers have talked about his comments. Some have agreed to him, while others have not. However, across one of his rants, Busch had mentioned his frustrations against one of his team's former Truck Series[2] drivers.
Recently, that same driver spoke up during a Door Bumper Clear podcast and gave his views about the RCR driver's remarks. He also made a massive claim about Kyle Busch throwing a "Hail Mary" at him.
Former Kyle Busch Motorsports driver shares his thoughts on the "respect" remark
ADVERTISEMENT
Article continues below this ad
During the podcast, Chandler Smith responded to the suggestion of Busch throwing Hail Marys at Ross Chastain. He said, "I mean he did at me too. That interview about the whole disrespect and all that and that there's a truck driver… He was referring to me and he mentioned. Yeah, I mean, he was referring to me in that interview. He was because I was the truck driver that was with him for I don't know how two years he said or whatever."[3]
"Kyle had some influence on me coming to Kaulig. I had conversations with him and my options that I had leading up to this year and what he thought. I lean on Kyle a lot. Like me and him talked a lot last year. We always been pretty, pretty tight to an extent. I leaned on him and asked, I was like, if you're in my position, you know, with a wife and a kid. I'm young, I'm 20 years old. Like, if these are your options, what is Kyle Busch gonna do and why? Tell me why?"
Smith then discussed Kaulig Racing's promising future, mentioning that the team had no plans to leave the racing scene anytime soon. With Matt Kaulig as the team owner with a Cup team in the development, Smith noted that although the team was relatively new and lacked the resources of RCR, they managed to perform well and do catch up to their competitors during the race. He also emphasized the importance of continued progress and effort.
The Truck Series driver also shared how Kyle Busch's possible move to Kaulig Racing significantly influenced his own decision to join the team.
Smith explains the turning point in his relationship with Kyle Busch
Tensions flared after the Xfinity Series race at Phoenix this year. Busch and Smith had gone head to head on the final lap. However, after making contact with each other, Busch's car wobbled out of control, forcing him to abandon his push. Later on, Busch went on to talk about the incident in an indirect manner and brought out the context of the lack of respect.
ADVERTISEMENT
Article continues below this ad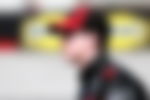 via Getty
BRISTOL, TENNESSEE – AUGUST 15: Chandler Smith. The driver of the #51 iBUYPOWER Toyota. Stands on the grid during qualifying for the NASCAR Gander Outdoor Truck Series. UNOH 200 presented by Ohio Logistics at Bristol Motor Speedway on August 15, 2019, in Bristol, Tennessee. (Photo by Sean Gardner/Getty Images)
During the same interview, Smith expressed his frustration over the Phoenix incident. According to him, this is what seemed to have soured his relationship with Busch. Despite their mutual respect, exemplified by Busch's praise of Smith's performance after the Vegas race, the two failed to discuss the situation and find common ground. He added, "We wouldn't even talk it over."
Watch This Story: Denny Hamlin refuses to "point fingers" at perennial enemy Ross Chastain after LA Coliseum fallout[4]
ADVERTISEMENT
Article continues below this ad
In the end, Smith decided to agree to disagree and hopefully move on from what happened between the pair at Phoenix. Hopefully, the two can sort their differences out with time and get back to the relationship that Smith mentioned he cherished.
References