How the trucking industry changed during the pandemic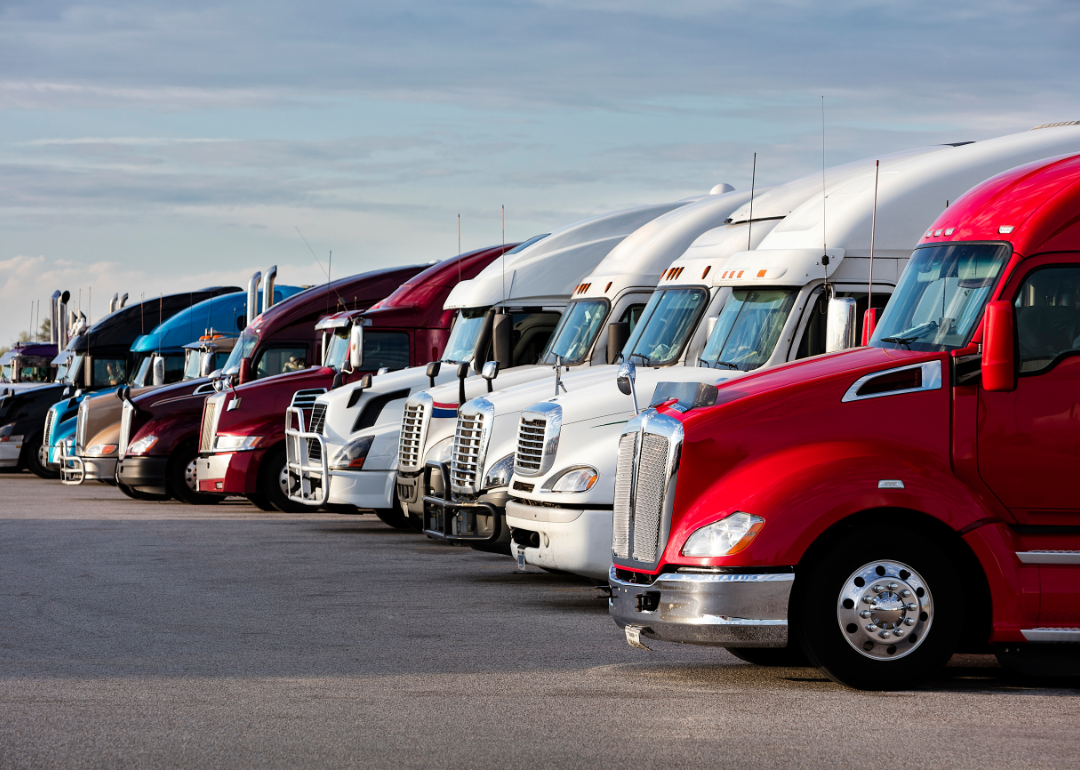 Canva
How the trucking industry changed during the pandemic
A line of parked semi-trucks at a truck stop in Missouri.
From gasoline to groceries, trucks move roughly 72% of the nation's freight[1] by weight. In dollars, that's $10.4 trillion of the $14.5 trillion value of all goods shipped in the United States, according to the most recently available data from the Census Bureau's Commodity Flow Survey.
Trucking is a pivotal part of the U.S.'s intermodal transportation system. Without trucks, products shipped from overseas would never leave the port, and manufacturing would come to a standstill. The onset of the COVID-19 pandemic caused disruptions to global supply chains, and intermodal transportation dropped drastically[2] by April 2020.
With entire sectors of the economy shut down, trucks had less freight to haul, and the trucking industry could not sustain its payroll. As a result, thousands of heavy truck drivers were laid off. The exceptions to this trend were drivers hauling medical supplies, food, and essential cargo needed to combat the pandemic.
Conversely, the number of light truck drivers[3], such as pickup and delivery drivers, increased between May 2019 and May 2020 as lockdowns and social distancing measures boosted e-commerce.
As the world emerged from pandemic lockdowns and economies reopened, the trucking industry faced a persistent—and worsened—problem: driver shortages. An aging workforce, poor retention, COVID-19 policies, and dried-up recruitment pipelines all contributed to the trucking industry facing a record shortage of 81,258 drivers in 2021.
At a media briefing on Oct. 25, 2021, American Trucking Association Chief Economist Bob Costello stated that the industry must hire one million drivers[4] over the next decade to deal with attrition and meet industry demand.
The pandemic did not impact all drivers equally. It was a boon to their careers, bringing record wage growth[5] for some. To others, it was a catalyst for unemployment. Using a variety of news and other sources, Truckinfo.net[6] investigated how the trucking industry changed during the pandemic.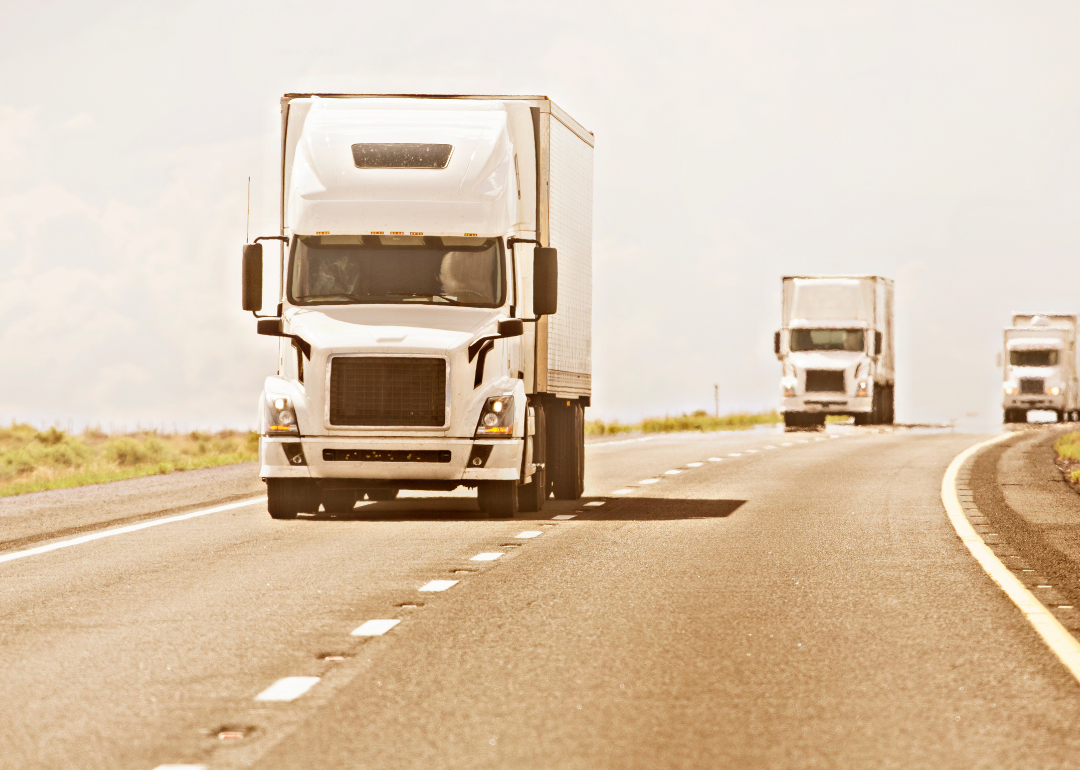 Canva
From 2020 to 2021, the average marginal cost per mile rose nearly 13%
Three identical white trucks driving down a highway.
The cost of trucking in 2021 increased to $1.855 per mile[7], the highest level in 15 years. Although fuel was the most considerable vehicle-based expense, rising by 10 cents year over year, most other trucking costs grew or remained about the same.
Even when fuel costs are removed, marginal costs increased by 10 cents per mile between 2020 and 2021. Supply chain constraints not only impacted freight demand, but they also impacted the health of the fleets. Specific parts for truck repairs or new builds were difficult to get early in the pandemic. As a result, older trucks were on the road longer, and associated repair costs increased year over year.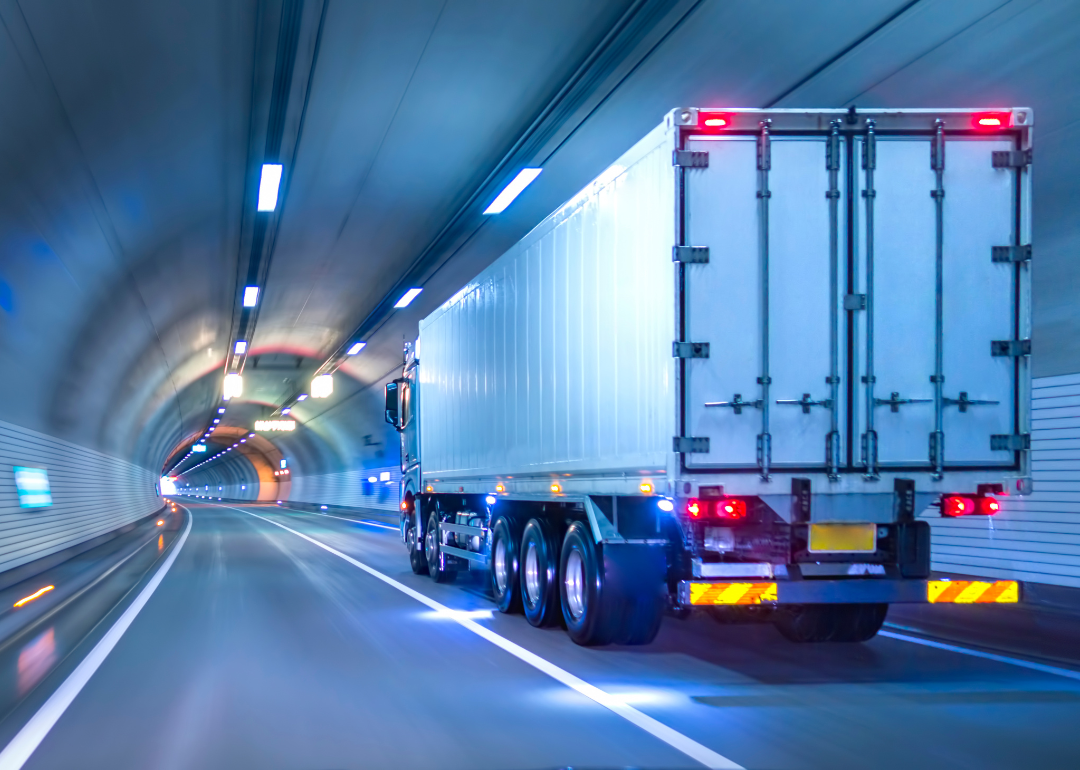 Canva
The average annual miles driven per truck dropped by almost 11% from 2020 to 2021
A truck driving through a tunnel.
In 2021, commercial trucks drove an average of 79,808 miles per truck[8]. The pandemic exacerbated a decade-long trend of declining average annual miles driven.
As some sectors of the economy, such as retail, hospitality, and entertainment, shut down or scaled back, the need for truck deliveries to businesses in those industries across the country was drastically reduced, bringing the average miles traveled down.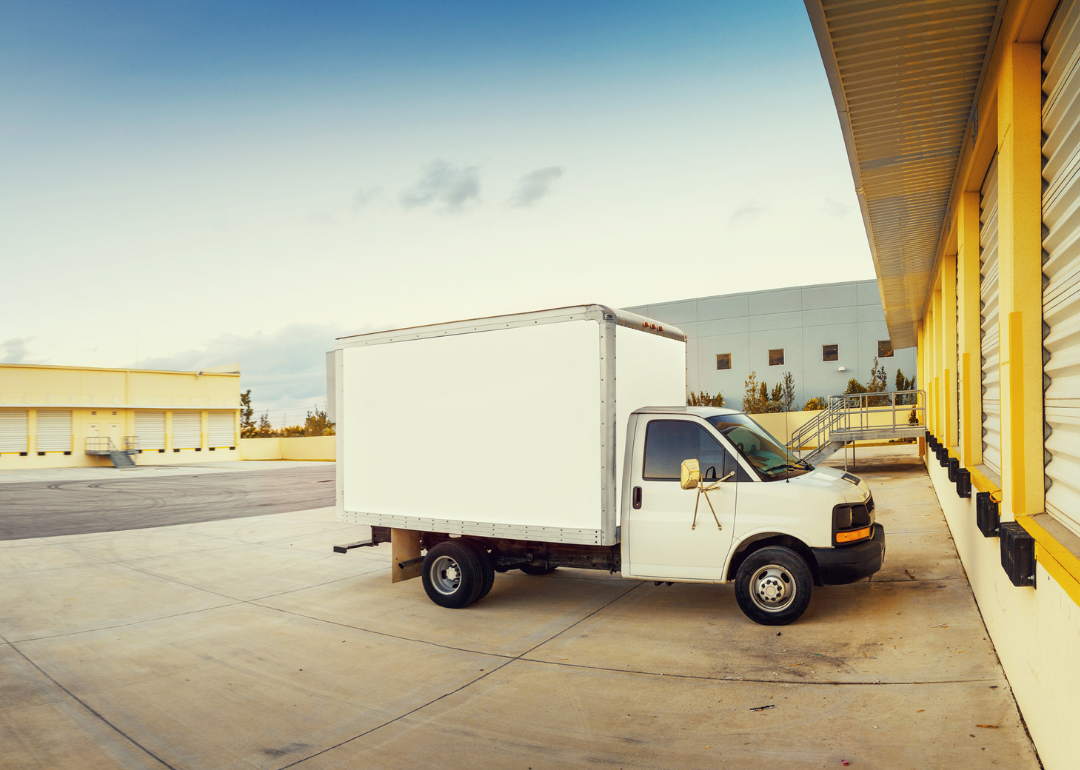 Canva
The number of truck drivers employed in the US rose 3.7%
A light truck parked in front of a storage locker.
The impact of the pandemic varied significantly within the trucking industry. Freight demand dropped early in the first half of 2020, forcing some private carriers to furlough drivers, particularly long-haul and heavy truck operators. Others increased their payroll to meet the demand for online shopping and at-home deliveries.
About 3.5 million drivers[9] were employed in 2021 as governments lifted lockdown restrictions and more sectors of the economy reopened.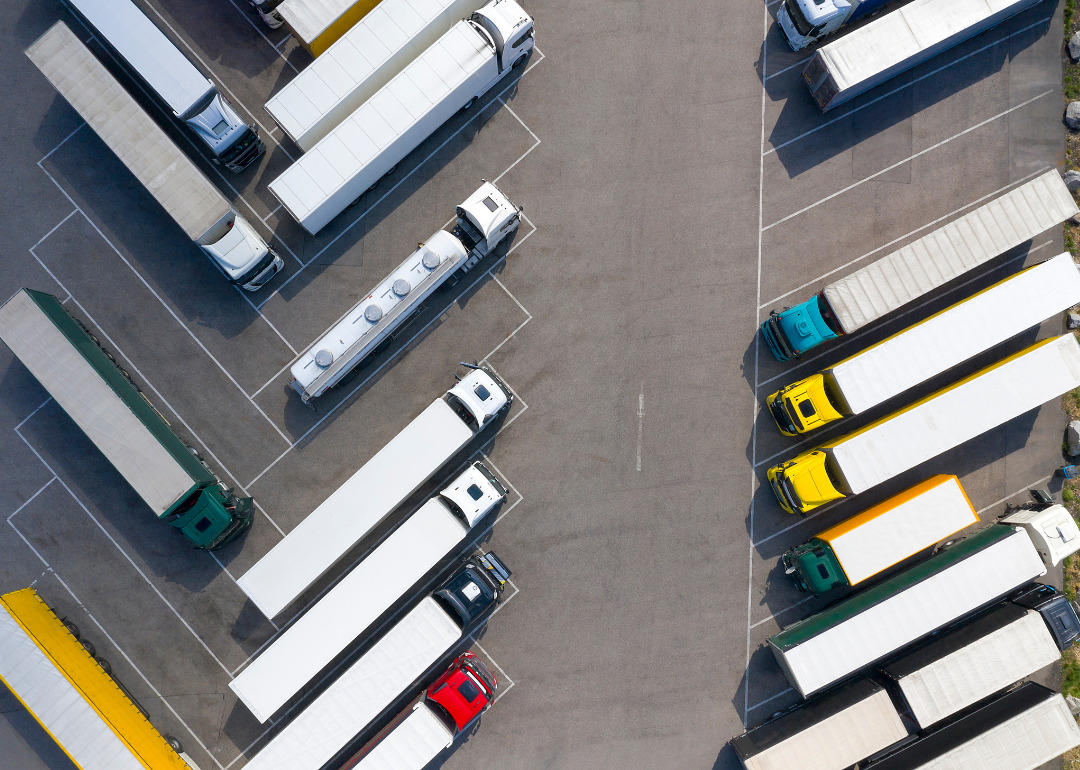 Canva
Driver safety and starting bonuses both rose between 2020 and 2021
An aerial view of trucks at a truck stop.
In 2021, safety and starting bonuses[10] rose to $1,943 and $1,974, respectively—the equivalent of roughly a $300 raise for each type of bonus. These increases represent an effort to attract more workers to the industry amid a driver shortage and incentivize good behavior.
Retention bonuses, however, declined year over year. The industry is well acquainted with high rates of attrition. Between 1995 and 2017, turnover at big trucking companies averaged 94% annually[11] and nearly 80% at smaller companies.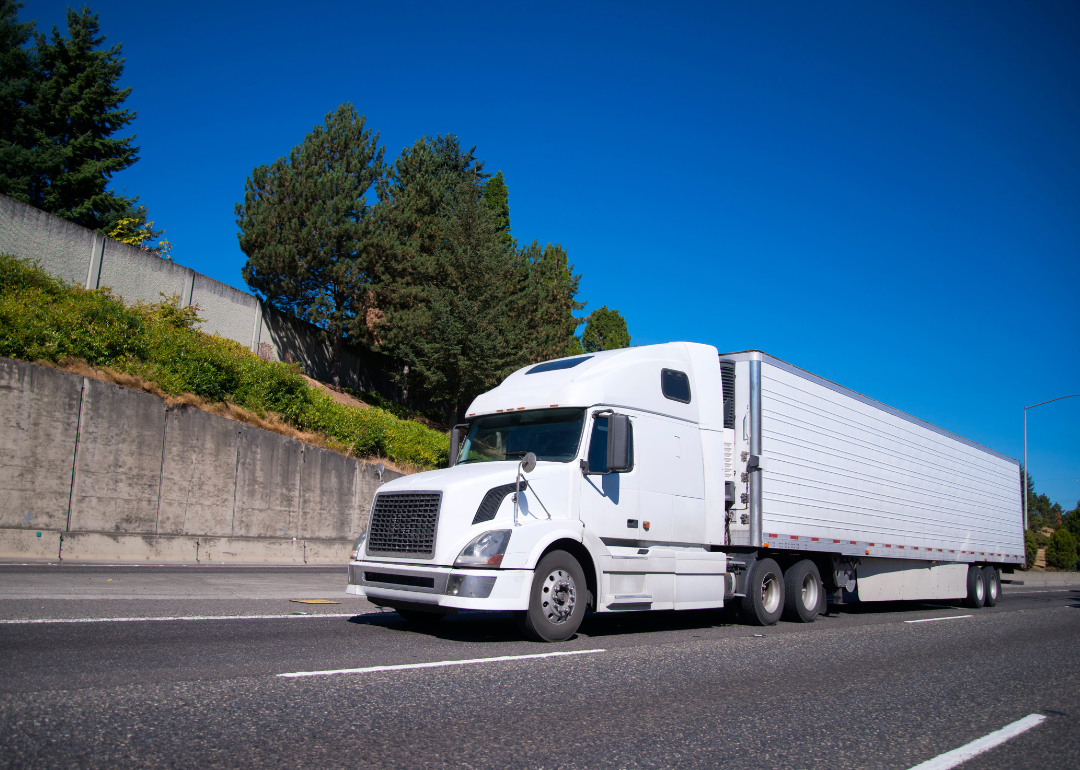 Vitpho // Shutterstock
In 2021, the number of Class 8 trucks increased by 2.3%
A Class 8 truck driving on a highway road.
In 2021, more than 4 million Class 8 trucks[12] were in operation—an increase of 94,300 from 2020.
As bottlenecks in the supply chain began to dissipate and the economy regained momentum, heavy trucks were again needed as links in the country's vast intermodal transportation system. Manufacturers churned out an average of 1,000 Class 8 trucks daily[13] between September and November, and more than 1,500 per day in December.
This story originally appeared on Truckinfo.net and was produced anddistributed in partnership with Stacker Studio.
References