Kenyan Truck Driver in Gulf Says Biggest Danger They Face Abroad …
A truck driver working in Gulf nations cautioned Kenyans against fellow countrymen while abroad
Via TikTok video, the driver said that Kenyans would easily plan one's downfall while pretending to be friends
His sentiments were echoed by those abroad, as one recalled how a fellow Kenyan made him lose a job in Qatar
A Kenyan working in the Gulf nations as a truck driver has opened up on the biggest risk they face abroad.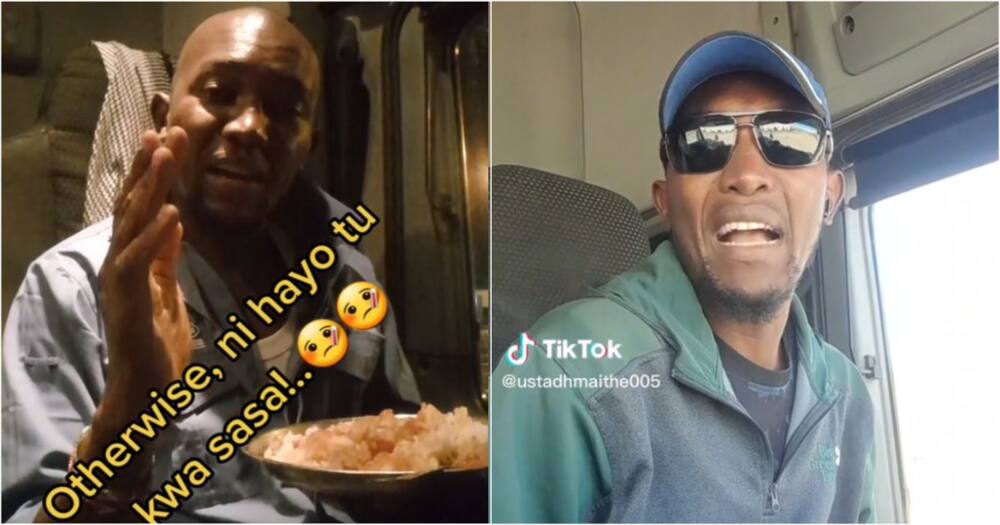 A Kenyan truck driver said he avoids fellow countrymen abroad. Photos: @UstadhMaithe254.Source: TikTok
Kenyan truck driver's warning
Via a video shared on his TikTok channel, @UstadhMaithe254 said that Kenyans are the biggest danger to fellow countrymen.
He advised Kenyans moving abroad[1] to avoid homies like the plague.
PAY ATTENTION: Join[2] TUKO.co.ke Telegram channel! Never miss important updates
"Once you decide to leave Kenya, maybe you're coming to Gulf or the US, Canada or any other country. I know it's hard, but try your best to avoid fellow Kenyans," he said.
According to Ustadh, meaning an expert in something, he had witnessed a lot.
"Adui ya mkenya nje ya Kenya ni Mkenya mwenzake. I am not scared of telling you this because I have seen and gone through a lot."
The truck driver accused Kenyans abroad of harbouring ill intentions towards fellow countrymen.
"If there is anyone who will let you down, tarnish your name and want you deported, it is a Kenyan. They will dance on your grave.
The Kenyan person you trust too much will be your downfall. It is better to associate with other nationals, even racists. If you want to return with money, avoid all Kenyans abroad."
Ustadh then revealed how he associates with fellow Kenyans, saying:
"Just say hi and leave it at that. It will be your end if you tell them everything you do and follow them around."
Kenyans abroad agreed with his sentiments.
wainaina dan ke:
"Andrew Kibe said the same thing."
Denis Mwangi:
"A Kenyan snitched on me in Qatar, and I was deported. I have never had a friend since."
Surge_Synch:
"True. I have worked outside the country for 11 years now. I don't associate with Kenyans away from Kenya."
Kenyan enjoys working in Gulf
Elsewhere, A Kenyan in the Gulf proved good families exist as she bonded with her employer's children and taught them Swahili[3].
She even danced to Swahili songs with her employer's daughter.[4]
Going by @officialvallroctar2[5] on TikTok, the house manager amassed over 80,000 followers.
Source: TUKO.co.ke
References