Mack chasing Lego world record in Brisbane
Date: 03.04.2023
The largest truck made from Lego bricks will be on display at the Brisbane Truck Show on May 19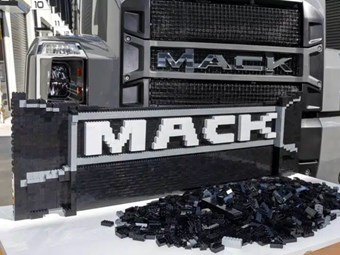 The Lego Mack Anthem will contain up to one million bricks
A life-size Mack Anthem, which will take two months and close to one million Lego bricks to complete, will be launched at the 2023 Brisbane Truck Show which runs from May 18 to 21.
Mack Trucks Australia says it is aiming for a Guinness World Record for the largest truck made from Lego bricks to celebrate 60 years of manufacturing in the western corridor of Brisbane.
Professional Lego builder Ben Craig will be Mack's expert on the job, using close to a million pieces of Lego to achieve the Guinness World Record build of a life-size Mack Anthem.
Measuring four metres high, two metres wide, and eight metres long, the truck will take two months to build before it is displayed at South Bank Parklands as part of the 2023 Brisbane Truck Show. This compares to just six days for a real Mack Anthem.
Following two months of design work, the Anthem is now under construction at Craig's studio at Burleigh Heads on the Gold Coast. The finishing touches will be added live in front of the public at the show.
The activation is planned to encourage community involvement as the final pieces are built in preparation for official Guinness World Record adjudication on May 19.
Just like the real thing, the truck will be built from scratch with individual and genuine parts. All components will be held together by 'Kragle' – which fans of The Lego Movie will know is a weapon (tube of glue) sought by Lord Business to ensure everyone touched by it is sealed in place.
Strengthened with metal internal supports, the Anthem will feature a detailed exterior and interior, including wheels, air lines, fuel tanks, turntable, fully operable doors, and 36-inch sleeper.
The final piece of the build will be a Lego brick version of the famous Mack bulldog, which will be added to the hood on May 19.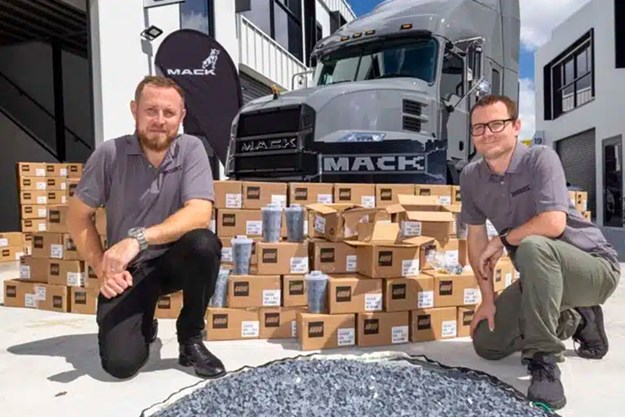 Mack Trucks Australia VP Tom Chapman and professional Lego builder Ben Craig will add the final piece at the Brisbane Truck Show
Mack Trucks Australia vice president, Tom Chapman, says big kids and little kids love Mack trucks and building a Lego version on home soil is a fun way to celebrate being Australian made for over six decades.
"The culture at Mack is one of pride and passion; our Australian Made certification is one we wear as a badge of honour," he says.
"Every Mack truck you see on the roads in Australia has been made in the western corridor of Brisbane.
"Designing and engineering our Mack trucks locally means we can meet and exceed the demands of customers, focussing on application excellence, providing reliability and durability."
RELATED ARTICLE: Heritage trucks back for Brisbane[1]
Best known as 'The Brick Builder', Ben's previous works include a full-size 1973 Viscount Royal caravan, scaled models of Brisbane Airport, a Eurostar train set, and the La Jument lighthouse in France.
A secret fan of large trucks and engineering, the Mack Anthem is by far the largest project undertaken by Ben, whose healthy obsession with Lego began at the age of two and has never ceased.
Ben says the opportunity to create a Mack Anthem made from Lego bricks is a dream come true.
"Mack trucks are iconic and have a loved cult following. I spend a lot of time on the road and no other truck has the same appeal as a Mack Truck and its iconic bulldog," Ben says.
Subscribe to our newsletter
Sign up to receive the Owner Driver e-newsletter, digital magazine and other offers we choose to share with you straight to your inbox
You can also follow our updates by liking us on Facebook. [2]
Trucks For Hire | Forklifts For Hire | Cranes For Hire | Generators For Hire | Transportable Buildings For Hire[3][4][5][6][7]
References