Major safety upgrades to highway – Central Queensland Today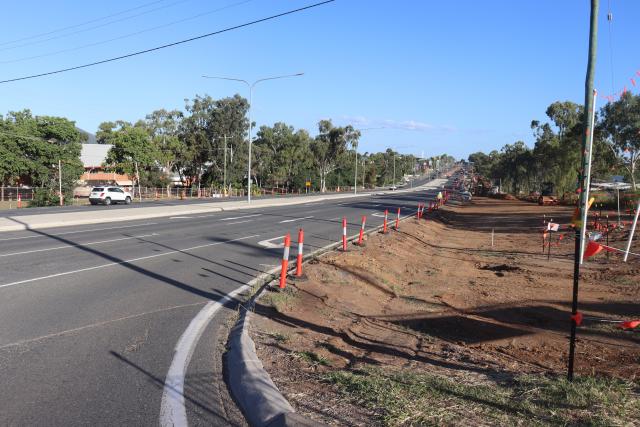 Roadworks are expected to be completed by mid-2024. Picture: Matthew Pearce.
by Matthew Pearce and Khrysti Balanay
Rockhampton residents can expect safety upgrades to the Bruce Highway, with more than $25 million allocated to improve intersections and pedestrian and bike-riding facilities.
Roadworks began in March this year and are expected to be completed by mid-2024.
Upgrades to Yaamba Road between Farm and Carlton streets involve the installation of new traffic signals at Carlton St, an off-road shared user path, heavy vehicle stopping place upgrades, two new bus stops and improvements to the service road between Farm St and River Rose Drive.
The Murray St intersection upgrade will extend the southbound, right-turn lane and remove the cross-vehicle movement.
The Derby St intersection will have the traffic signal and pedestrian facilities upgraded.
Member for Rockhampton Barry O'Rourke said these upgrades would provide better access to businesses and improve road safety.
"We know how busy the Bruce Highway is in Rockhampton and how important these upgrades are, which is why we are getting on with the job," Mr O'Rourke said.
"The pathways and bike lanes will create a much better link for bike riders and walkers from the south of Rockhampton to Parkhurst in the north.
"The State Government continues investing in bike-riding and walking infrastructure that encourages people to ride bikes in our communities."
Minister for Infrastructure, Transport, Regional Development and Local Government Catherine King said the upgrades were part of a $13.5 billion Bruce Highway Upgrade Program investment.
"The Bruce Highway is Queensland's major north-south freight and commuter corridor, and the Australian Government is committed to ensuring connectivity and efficiency across the national road network," she said.
"This investment demonstrates our continued commitment to making roads safer and more efficient to support the needs of growing communities and facilitate future economic expansion and growth.
"As part of the 15-year Bruce Highway Upgrade Program, these works will deliver important safety benefits for motorists to ensure the Bruce Highway can cater for future traffic growth."
During construction, road users should expect changed traffic conditions, including speed restrictions, lane closures, detours and other traffic control measures to ensure the safety of motorists and allow road workers to carry out the work as efficiently as possible.