Man fleeing police crashes stolen truck into Houston airport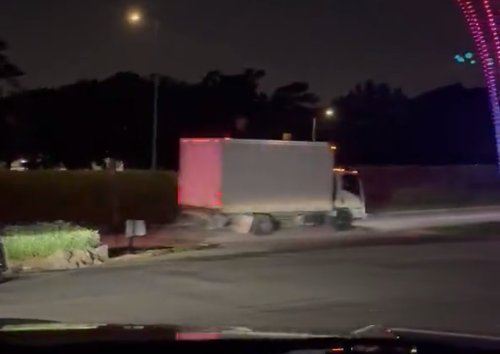 A wild police car chase[1] crossing county lines came to an equally wild end on Monday night when a man driving a stolen box truck veered off public streets and onto the tarmac at George Bush Intercontinental Airport.
Authorities say the chase began around 8 p.m. Monday evening when officers attempted to stop a man driving a reportedly stolen white box truck. Refusing to pull over, the man attempted to evade police, taking them on a meandering eastward chase that at times dipped into Montgomery County[2]. 
Authorities say the fleeing driver led officers southbound on Hardy Toll Road[3] before exiting via the airport connector and turning onto JFK Boulevard, where the suspect ran over a spike strip puncturing his tires.The driver continued, however, pulling onto McAllen Drive and blasting through a gate leading onto restricted airport property.
There, officers say the man crossed over tarmac and other high security areas before crashing the vehicle into the south side of Terminal B[4] and then attempting to evade officers on foot. The suspect was ultimately discovered and arrested in the tunnels by the airport Houston Airport[5] Marriott Hotel. The man, identified as 35-year-old Kevin Hollis by Harris County Precinct 4 Constable Mark Herman on Tuesday. Herman states Hollis had an open warrant out for his arrest for the unauthorized use of a motor vehicle at the time of the chase.
"Karl Hollis was arrested and booked into the Harris County Jail, for the open Felony warrant and charged with Unauthorized Use of a Motor vehicle, Felony Evading and Felony Criminal Mischief," Herman wrote in a Tuesday Facebook[6] post detailing the 66-mile pursuit. "His bond and court information have not been set at this time."
Footage of the wild chase and its conclusion circulated the internet Monday night. One video shows police in hot pursuit of the white box truck on JFK Boulevard.
Twitter
KHOU's Matt Dougherty tweeted footage of Hollis in handcuffs being led by officers to a squad car near a terminal pickup zone.
Twitter
Despite its traumatic end, the chase did not interfere with operations or cause delays for travelers at Bush Airport on Monday, according to Houston Airports Director of Communications Augusto Bernal.
"At approximately 9:05 p.m. Monday, a box truck crashed through gate FV-5 at Bush Airport while being pursued by law enforcement," Bernal said in a statement. "The truck drove inside the airport service road until it crashed against the terminal B building. One person was detained by law enforcement." The truck has since been removed from the property, a Houston Airports official said Tuesday.
References