Rail News – ASLRRA honors short lines, individuals with annual …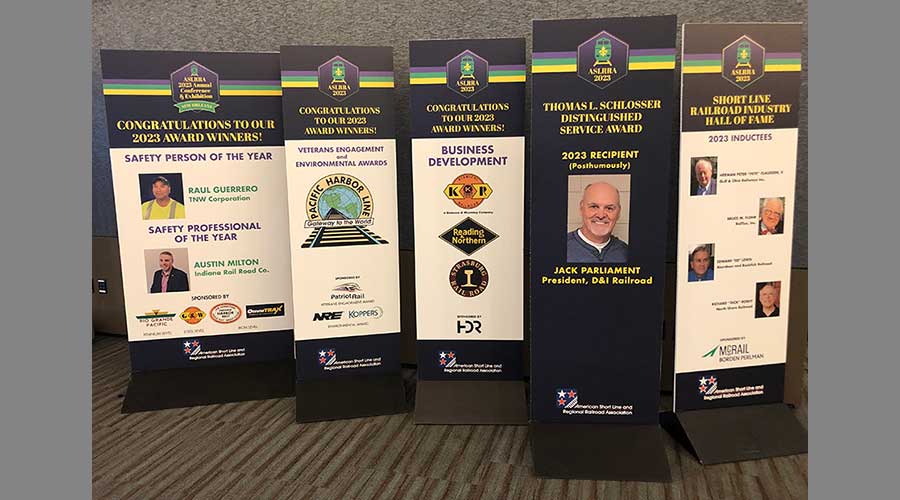 The American Short Line and Regional Railroad Association recognized several individuals and railroads for service and excellence at its Annual Conference and Exhibition held April 2-4 in New Orleans.
Photo – Jeff Stagl
The American Short Line and Regional Railroad Association[1] announced several award recipients at the ASLRRA Annual Conference and Exhibition held April 2-4 in New Orleans.
Former D&I Railroad President Jack Dale Parliament, who died in October 2022, was honored posthumously with the 2023 Thomas L. Schlosser Distinguished Service Award. Named for former ASLRRA Chairman Thomas Schossler, the award is the highest individual honor bestowed by the ASLRRA. It recognizes an individual for his or her long-term, significant service to the ASLRRA and the short line industry.
Parliament had been active with the association for over two decades.
"His drive to ensure that the smallest of our Class III members were well represented, well understood and well supported was notable, and his passion and quick laughter were legendary," said ASLRRA President Chuck Baker in a press release.
Meanwhile, the ASLRRA recognized Raul Guerrero, a track inspector at the Texas North Western Railway, as the Safety Person of the Year; and Austin Milton, director of safety and training at the Indiana Rail Road Co., as the Safety Professional of the Year. The awards recognize a career-long safety focus and honor leaders who hold their companies and peers accountable to and for each other.
ASLRRA also honored the Pacific Harbor Line (PHL) with both the inaugural Environmental Award and the 2023 Veterans Engagement Award. The new award recognizes a short line's efforts to reduce its environmental footprint or achieve innovative and successful environmental initiatives.
"PHL has been a leader in the short line industry in the exploration and implementation of sustainability practices on their railroad, including Tier 3 and Tier 4 locomotives, in encouraging ASLRRA to become more involved in ESG issues, and through participation in the [U.S. Environmental Protection Agency's] SmartWay program," Baker said.
PHL also has been a "strong and consistent supporter" of hiring and supporting veterans, he added.
"Veterans bring a commitment to safety and mission and valuable experience to the railroad industry," said Baker. "PHL's efforts in this area have yielded a company record 55% of this year's hiring class being veterans or actively serving members of the U.S. Armed Forces."
In addition, the ASLRRA honored three railroads with the 2023 Business Development Awards: Kiamichi Railroad, Reading Blue Mountain & Northern Railroad (RBMN) and Strasburg Rail Road Co.
"Each demonstrated innovative and successful business-building initiatives that will lead to significant increases in shipping volume and additional benefits for the customer and the community," ASLRRA officials said.
Each award recipient directly oversaw development of or worked with customers to build facilities that support local jobs and industry, diversify company income and offer an alternative to shipping freight by truck through nearby towns, they said.
Kiamichi was recognized for convincing Tyson Foods to build a $65 million poultry feed mill on its line in McNab, Arkansas; RBMN was recognized for completing a transload facility in Tunkhannock Township, Pennsylvania, the largest industrial development project in company history; and Strasburg was recognized for opening a six-track freight yard in Paradise, Pennsylvania.
"Our three awardees identified opportunities to grow or transform their business, and like short lines do, found a way over, under and around every obstacle to deliver results — whether that was convincing a customer to build a new rail-served facility, seizing an opportunity to move freight from truck to rail, or bringing a 17-year-old vision of a new freight-rail yard to life," said Baker.
References
^ American Short Line and Regional Railroad Association (www.aslrra.org)