Renewed calls for road fix after Stratford local injured
FOR the first time in his life, interstate truck driver Allan Proud, 51, genuinely thought he was going to die.
The Stratford local has been driving trucks for more than 25 years. Last week was just like any other as he departed for Sydney, a trip he does most weeks.
It was about 10.30am on Monday, March 20 as he drove his truck on a stretch of road on the Princes Highway between Stratford and Bairnsdale, near the Princes Hwy Parking Lot. It's a road he's very familiar with.
Mr Proud said a smaller truck was in front of him, and was following a line of traffic before a collision occurred. After hitting the small vehicle, Mr Proud's truck stopped when it hit the road barrier.
"I couldn't see what was going on in front of his truck. He was in front (and) he had a better view of everything. I was watching what his brake lights were doing, so I couldn't quite see what the cause of the accident was," Mr Proud said.
"The driver of the smaller truck told me that everybody just stopped dead in front of him, so I'm assuming that's what happened … that the cars that were behind (the smaller truck) went in to overtake him, but didn't quite have enough room, so they hit the brakes.
"Then the smaller truck that was in front of me hit the brakes and I started pulling up, and then he stopped a little bit quicker, so I started veering into the left-hand emergency lane to try and go between him and the guard rail.
"And then the smaller truck driver put the hazard (lights) on to give me a warning that he was going to come to a complete stop, and I ran out of room and drove straight up the back of him.
"I hit him on my driver's side, and then after I bounced off him. My truck pulled me into the middle barrier and that's where I ended up.
"It was unlucky. There was nothing I could have done."
There was no fatal injuries.
"I've done a lot of dumb s**t, but that's the first time in my life I thought I might die," he said.
Once it happened, Mr Proud got out of the truck and a bystander phoned 000. The road was blocked because of the incident and spilled coolant.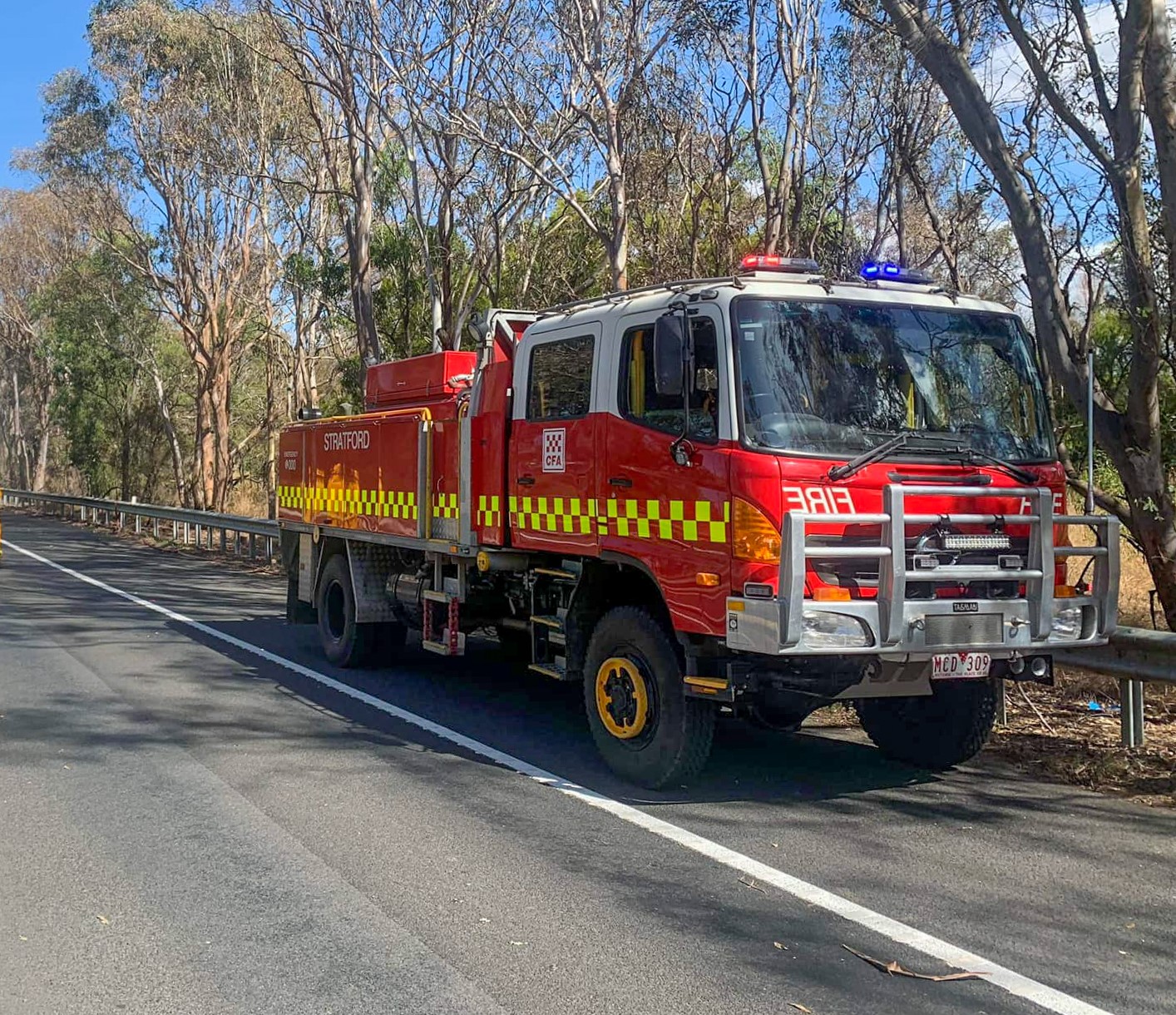 Stratford Fire Brigade showed up to assist.
Mr Proud's injuries were a fractured ankle bone and a swollen knee. He's now on crutches and off work for six weeks.
"I just gotta rest up and be bored s**tless," Mr Proud said with a laugh.
"That's the worst part, I'm used to being out every day doing something and now I've gotta sit in my chair.
"I'm a worker. I've always worked. I don't want to be sitting around."
Mr Proud has mixed feelings about the barriers in general, but hopes that the lanes are duplicated.
"A lot of people are saying the barriers are no good. I think that they are no good, but I also think they are okay as well, because if it wasn't for that middle barrier, I would have (gone) across the other side of the road into oncoming traffic, because I had no control over the truck," he said.
"I think the government really needs to have a look at duplicating that road because they've spent all this money on safety and it's not working. That's not the first time I've nearly had an accident on that road, and heaps of other people have (experienced) the same.
"(The government) spent the money on the Traralgon-Sale Rd and duplicated it. It's about time they looked at this one I reckon. Barriers are not the answer."
Nationals Member for East Gippsland, Tim Bull, told the Gippsland Times that improvement work needs to be done before they claim a life.
"In recent months we have had serious accidents involving the barriers on September 27, October 28, November 10, November 27-28, February 19, March 4-5 and March 20 – so no person in their right mind can say they are safe," Mr Bull said.
"This accident is another classic case of the road carriageway not being wide enough and it's the most recent in a spate of very serious accidents involving the barriers in the past six months, and to be honest, since their installation."
The Gippsland Times understands that none of the above incidents have been recorded by the Department of Transport and Planning (DTP) as they didn't cause major injury. Mr Proud's truck collision fits into this camp and has not been recorded.
Mr Bull said that while he accepts that the carriageway has reduced head on crashes, he says that Regional Roads Victoria (RRV) are "ignoring the large amount of other accidents caused by the carriageway being too narrow".
Mr Bull said RRV, who are part of the DPT, should install a wider median in the centre of the road and a wider carriageway. He said this would allow vehicles to pull over safely or go around a stationary vehicle with appropriate room.
The DPT told the Gippsland Times that the safety barrier for this section of the Princes Highway East were assessed following installation and comply with VicRoads guidelines. This includes the minimum width for a median with central barrier.
According to the DPT, prior to safety upgrades, the Princes Highway East, between Sale and Bairnsdale, was one of the state's highest risk roads, with 50 serious injury crashes and five lives lost on this stretch of road in the five-year period leading up to 2015.
They said that prior to these works commencing, Regional Roads Victoria undertook an extensive consultation process that included community information sessions, workshops with emergency services, meetings with freight groups and discussions with individual land owners.
As a result of this consultation, numerous changes to the design were implemented, including constructing additional overtaking lanes, the construction of pull over bays for vehicles to stop in an emergency, and not installing proposed barrier in some locations.
Department of Transport and Planning Regional Director (Gippsland) Beth Liley said the safety of all road users was their number one priority.
"We know safety barriers save lives which is why we installed them along a 58km stretch of the Princes Highway East to prevent serious crashes caused by vehicles veering into oncoming traffic," she said.
"This section of the Princes Highway was identified as one of the state's highest risk roads and since the installation of these barriers there has been a significant reduction in serious injury crashes and no fatal crashes."
DPT says road widening would have required the removal of more than 10 hectares of vegetation and federal government approvals, which could have taken up to two years, risking further fatal and serious injury crashes.
Thankfully, in Mr Proud's case, he had no major injuries. While he laments being stuck at home, on the plus side, he will get to spend more time at home with his family and the dog.
"I'm getting an X-ray (this week) and they said if the fracture gets any bigger I may need surgery, which means more time off work. So I'm trying not to move my foot at all," he said.
"It could have been a lot worse…but it worked out in the end and we all walked away. The damage is done so there's no point getting worked up about it now."