Scottish Water manages driver compliance with DriverCheck help
Scottish Water is using automated licence checking services from DriverCheck to meet its legal compliance and duty of care responsibilities across more than 4,000 drivers and several vehicle classes.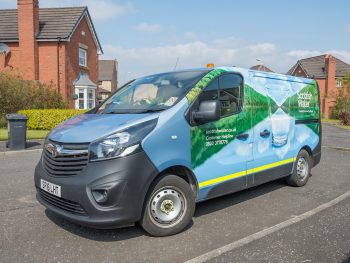 The statutory corporation, which is accountable to the Scottish Government, provides water and wastewater services to more than five million customers across rural, island and urban communities.
It operates an owned fleet of more than 1,700 vehicles – 300 cars, 1,300 vans and 120 HGVs – but also has 1,600 grey fleet drivers who use their own vehicles on company business.
Fleet manager Elaine Pringle said ensuring that everyone driving for business purposes holds a valid licence for the category of vehicle they are driving is a huge undertaking.
"From that perspective, the DriverCheck service works really well for us.  It provides automated, reliable driving licence checking, working continually and silently in the background, highlighting any issues," she commented.
The firm's risk-based approach means the frequency of checks is dependent on the type of vehicle being driven.
"Our HGV drivers' licences are checked every three months, van drivers every six months and grey fleet drivers' licences are checked annually.
Scottish Water also uses DriverCheck services to confirm that vehicles being driven on business purposes are legally compliant, checking tax and MOT status and confirming the right level of business insurance.
"The use of DriverCheck gives me peace of mind that we are meeting our legal obligations and duty of care to our staff and members of the public, as driving is still one of the most dangerous work activities that we do.
"Legal compliance is particularly important for us as we operate HGVs and checking of drivers' licences is one of our duties.  Without our fleet of vans and HGVs, we would be unable to provide essential water and waste water services for our customers."
DriverCheck head of operations, Yvette Giannini said that automated licence checking was vital for an organisation with a large and diverse driver pool such as Scottish Water's, both from legal compliance and management of occupational road risk perspectives.
"With as many drivers as Scottish Water have and the complex nature of their operations, anything other than a fully automated service would never be an option. Automatic updating through the DriverCheck client portal dramatically reduces the chances of error, as well as cutting the amount of admin time required," she said.
DriverCheck is part of Ebbon Compliance which, with Derby-based Licence Check, says it's now the UK's largest driving licence checking[1] and vehicle compliance business with a combined 1.6 million licence checks per annum. DriverCheck provides managed services including licence checking and grey fleet services, while Licence Check offers packaged risk and compliance solutions through its DAVIS platform.
References
^ driving licence checking (www.drivercheck.co.uk)