TikTok Video Shows Truck Driver's Wife Parking on Side of Highway …
A TikTok video showing a dedicated truck driver's wife left Mzansi hearts in puddles
TikTok user @buzani_15 shared a video of his wife parking on the side of the highway to give him a warm meal
People clapped for the woman, thanking her for showing her husband such a rare and pure form of love
They say that behind every hardworking man is a supportive woman. While this couldn't ring more true for this woman who meets her truck driver husband on the side of the highway so that he gets a good home-cooked meal.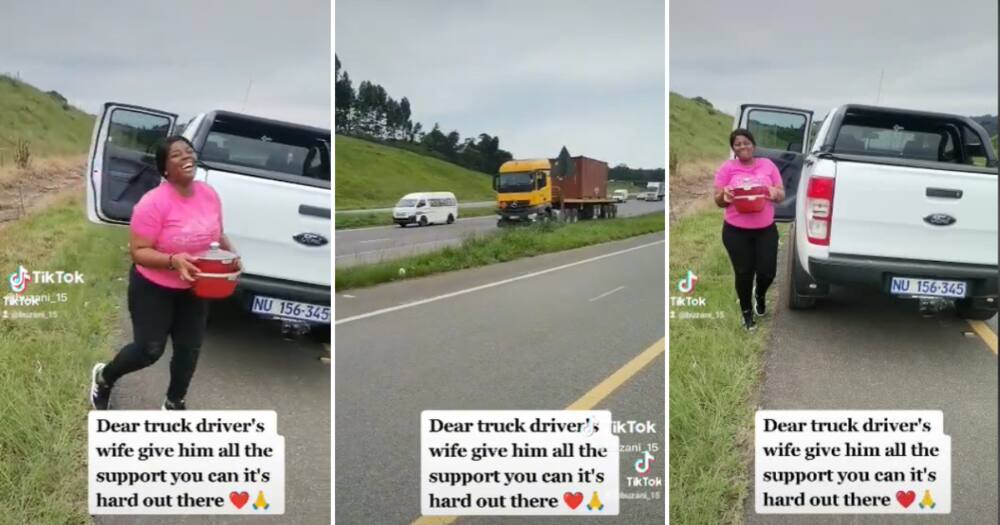 TikTok user @buzani_15 shared a video showing his wife bringing him a warm meal while en route. Image: TikTok / @buzani_15Source: TikTok
Truck driving is not easy work. The long and stressful hours can be isolating. So, when you see a wife putting in this kind of effort, it is worth hyping.
TikTok video shows a dedicated truck driver's wife meeting hub with a cooked meal
TikTok[1] user @buzani_15[2], a truck driver, shared a video[3] of his wife parking on the side of the highway, waiting for him so that she can quickly give him a wholesome warm meal.
PAY ATTENTION: Follow us on Instagram[4] – get the most important news directly in your favourite app!
Guys, the level of cuteness in this video will smelt your soul! Take a look:
Mzansi applauds the wife while their hearts melt from the romance
If you thought roses were romantic, you clearly have never had someone wait on the side of a busy road to bring you food. People[5] flooded the comment section, hyping the wife's efforts and praying for love like this.
Read some of the sweet comments:
@S_Kubeka said:
"This was definitely me. But I'm glad he doesn't travel long distances anymore. I have him in bed every day now."
@Putting me first said:
"It's a difficult life, but we are here to make the few weekends they spend at home feel like paradise. on behalf of trucker wives. We love you!"
@@BusiSanaTlou said:
"Stop it I like it. I bake and cook for my husband when he's passing home#big up to us truck drivers' wives. Let's honour them."
@ladyellechaki said:
"Such a wonderful wife. You're blessed. Such wives are rare to find."
@Jay said:
"Oh my God seeing this has brought tears I'm my eyes…My trucker is stuck somewhere in Malawi. Am sure a flask of hot tea would be perfect."
Meet the truck driver in the US, gives tour of luxurious truck interior with fridge: "It's very comfortable"
In other news, Briefly News reported that Samuel Mulwa, a Kenya working as a trucker in the US[6], has offered a glimpse of the luxurious truck he drives.
Mulwa gave a tour of the cabin, saying he rarely spends time at home.
"It's very comfortable and that is why you can drive for hours. I spend 80% of my time here. I am usually home for only two or three days in a week."
Source: Briefly News
References